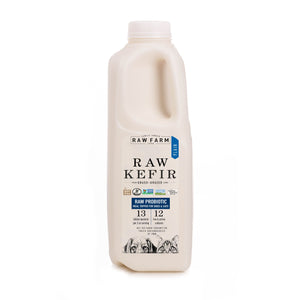 Raw Farm
Raw Plain Kefir
Regular price
$11.99
$0.00
Description
FROZEN PET FOOD | RAW GOLDEN KEFIR | QUART
INGREDIENTS WHOLE RAW MILK, LIVE BACTERIA CULTURES
PET FOOD | FROZEN | MEAL TOPPER | GLUTEN-FREE | RAW | PALEO | TESTED | NON-GMO | PRIMAL | KETO | KOSHER | SOY FREE
PACKAGING: BOTTLES MADE WITH NON-TOXIC PLASTIC. BPA/BPS & PHTHALATES FREE
FEEDING GUIDE:
This product is intended for supplemental feeding only. Store in the freezer and thaw for 24 hours before use. Keep refrigerated and shake well before each use. before use. Best if consumed within 30 days after thawing. Do not overfeed.
ABOUT WHOLE RAW KEFIR, PET FOOD
RAW FARM Whole Raw Kefir, PET FOOD is made by culturing our whole raw milk with 12 specialized bacteria colonies (in addition to the bio-diverse colonies of beneficial bacteria naturally found in our raw milk). It is cultured for 36-48 hours to achieve a pH of approximately 3.8. RAW FARM Whole Raw Kefir is smooth and pourable in texture. Raw Kefir contains special prebiotics, which feeds and protects animal gut bacteria. In addition, our raw kefir is alive with fully active enzymes containing biodiversity of probiotic bacteria a broad spectrum of naturally occurring beneficial bacteria, essential amino acids, OMEGA-3 fatty acids, metabolically available vitamins, immunoglobulins, minerals, and antioxidants. Absolutely NO antibiotics, synthetic hormones, toxic pesticides, or GMO anything.  Pour this raw probiotic on top of your pet's meal to help with digestive health.
13 BILLION BACTERIA PER SERVING
SIMPLY FLASH-CHILLED, FILTERED AND TESTED. FROZEN.
---
People Also Bought