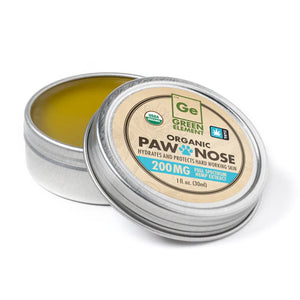 Green Element
Organic Paw Nose Balm
Regular price
$21.99
$0.00
Description
GREEN ELEMENT BARK  BALM is formulated specifically for your pet's hot spots, insect bites, cuts, and scrapes.  Bark Balm penetrates fast to stop itching, soothe pain, reduce inflammation, and accelerate healing.  
Seriously Organic. Seriously soothing.  Seriously Healing.
The combination of Certified Organic Oregon grown hemp extract and our proprietary blend of 8 organic essential oils is guaranteed to put the wiggle back in your dogs wag.  Green Element Bark Balm is naturally anti-bacterial, anti-microbial, anti-fungal, and anti-inflammatory to give your pup fast relief.
We made it for your dog... but we use it too.  Great for skinned knees, burns, blisters, rashes, and rubs of all types!
Active Ingredients:​
USDA Organic full-spectrum hemp extract including a natural blend of cannabinoids, Organic Rosemary Essential Oil, Organic Eucalyptus Essential Oil, Organic Frankincense Essential Oil, Organic Sea Buckthorn Berry Essential Oil, Organic Lavender Essential Oil, Organic Chamomile Essential Oil, Organic Calendula CO2 Extract, Organic Myrrh Essential Oil.
Inactive Ingredients:
Organic Sunflower Oil, Organic Cold Pressed Hemp Seed Oil, Organic Unrefined Virgin Coconut Oil, Organic Beeswax, Organic Jojoba Oil, 
Don't forget... Green Element products are Made in Oregon, from Oregon Hemp, by real live Oregonians!
No preservatives, no additives, nothing artificial.  Ever.
Certified Organic by Oregon Tilth.