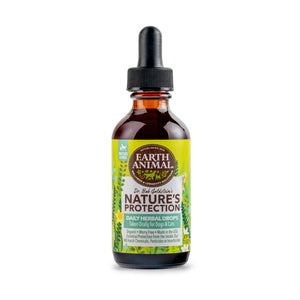 Earth Animal
Nature's Protection™ Flea & Tick Daily Herbal Drops
Regular price
$21.99
$0.00
Description
Description

Mother Nature doesn't use synthetic chemicals.
Neither do we. Our philosophy is simple and 40 years strong. We believe that dogs and cats should never be the carriers of synthetic chemical insecticides or pesticides. Ever.
As seasons change, so does the need for flea & tick protection. Using our team of Nature's Protection™ products together helps create the ultimate defense for your dogs and cats with 2 easy steps to build immunity and combat fleas and ticks, naturally.
Step 1:

 

year-round essential protection from the inside out.
Step 2:

 

additional topical protection from the top to bottom. 
Step 1: From the inside out.
Formulated by Dr. Bob Goldstein, our Nature's Protection™ Flea & Tick Daily Herbal Drops is a highly absorbable blend that helps boost immunity and guard both dogs and cats from fleas and ticks during times of increased exposure. The combination of these carefully selected herbs boost the body's defense and quiets the allergic reaction and itching from bites. 
A healthy body is one of the best barriers to insect bites and infestations. That's why our Nature's Protection™ Daily Herbal Flea & Tick Drops should be given during mid and high flea & tick seasons in your region. We recommend adding these to our Daily Internal Powders for optimum prevention against fleas and ticks.
Ingredients & Benefits
Nature's Protection™ Daily Herbal Flea & Tick Drops Active Ingredients:
A Proprietary Blend of Organic & Wildcrafted Extracts of Garlic, Goldenrod, Yerba Saanta, Tobacco, Wormwood, Yellow dock, Neem, Rue and Nettles. Inactive Ingredients: Alcohol, Flower Essence Blend of (Cherry Plum, Elder, Hornbeam, Vervain), Glycerin and Water.


Ingredient Benefits:
Garlic* - This natural repellent contains antibacterial and antifungal properties, and supports immune function while cleansing the blood.
Goldenrod – Provides action against bacteria and infections.
Neem – Fights off parasites, bacteria, and viruses. Detoxifying effects make this a great immune booster.
Rue – Powerful insecticide and repellent.
Tobacco** – An herb that is a powerful repellent of fleas, ticks, mosquitoes, and other insects.
Wormwood – Effective repellent.
Yellowdock – Bitter and good for liver congestion.
Yerba Santa - Used for digestive support. 
*The amount of garlic in all Earth Animal's products is always at levels that are proven safe for dogs and cats. Garlic will only have the side effects discussed by
veterinarians at extremely high levels.
 
**Earth Animal uses only organically grown extract of tobacco leaves in proper, safe amounts. This process takes advantage of the protective qualities of herbal tobacco, while avoiding the common health concerns (cancer and heart disease) associated with smoking and chewing. Tobacco in our Herbal Drops is safe and effective for dogs and cats.
Size & Weight  
Bottle Size: 2 oz.
Daily Dosing Recommendations - how big = how much: 
Administer by weight
TO BE TAKEN ORALLY, twice daily. Can be given with food, water or directly in the mouth.
3-7lbs – 3 - 4 drops
8-15lbs - 5 - 8 drops
16-35lbs - 10 - 12 drops
36-85lbs - 15 - 18 drops
86lbs - 20 - 25 drops
---
People Also Bought