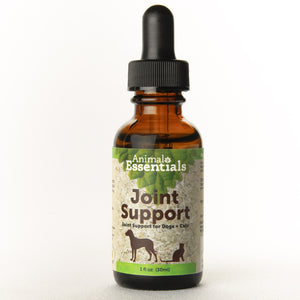 Animal Essentials
Joint Support
Regular price
$18.00
$0.00
Description
An alcohol-free, sweet tasting, glycerin-based herbal tincture, for occasional stiffness and soreness. May help with discomfort that is associated with normal daily exercise and activity.
HIGHLIGHTS:
•Helps maintain healthy inflammatory regulation in the joints.
•Supports healthy liver function and removal of excess toxins that may contribute to joint disease.
•Works to enhance the functions of glucosamine, chondroitin and other joint mobility supplements.
•Suitable for animals of all ages.
•Made with 100% human-suitable, certified organic herbs.
•Vegetable glycerin based; alcohol-free.
•Used and recommended by veterinarians
Product Facts:
Active Ingredients (per 1ml):
A proprietary blend of alfalfa herb (Medicago sativum, Yucca root (Y. Schidigera), Burdock root (Arctiumlappa), Licorice root (Glycyrrhiza glabra)………….250 mg 
Inactive Ingredients: Distilled water, vegetable glycerin.
Directions:
Using the graduated dropper provided, squirt the recommended dose (below) directly into the mouth, preferably on an empty stomach (at least 1 hour between meals), twice daily. If this is impossible, try adding to a small amount of water, or salt-free meat broth.
As a last resort, add to food.
Dogs:  under 30 lbs (13.6 kg): 0.25 - 0.5 ml
  30 to 60 lbs (13.6 to 27.2 kg): 0.5 - 1.0 ml                  
  over 60 lbs (27.2 kg +): 1.0 – 1.5 ml
Cats:  0.25 – 0.5 ml
---
People Also Bought