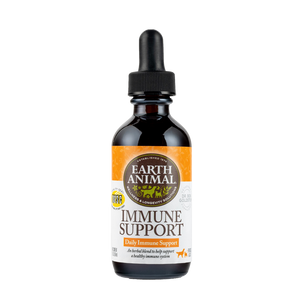 Earth Animal
Immune Support Organic Herbal Remedy
Regular price
$19.99
$0.00
Description
Active Ingredients per ml (20 drops): A Proprietary Blend of Organic & Wildcrafted Herbal Extracts (1:4) of Echinacea Pupurea Leaf and Root, Goldenseal, Astragalus Root, Pau D'Arco, Turmeric, Ashwaganda.
Inactive Ingredients: Alcohol, Flower Essence Blend of (Cedar, Chamomile, Nastartium, Pansy, St. Johnwort, Wild Rose), Glycerin, Water. 
We use only organically grown or wild-crafted herbs to make these powerful concentrated liquid extracts. Our herbal formulas have reduced alcohol content, with added flower essences to help re-balance the disrupted energy or emotional patterns associated with each condition for a truly holistic balancing effect. 
Bottle Size: 2 oz. 
Directions For Use: ADMINISTER ORALLY twice daily. Can be given directly in the mouth or mixed with 2 oz. or more of water. For maintenance, dose by weight, once daily or every other day.
3-7 lbs. - 3-4 Drops
8-15 lbs. - 5-8 Drops
16-35 lbs. - 10-12 Drops
36-85 lbs. - 15-18 Drops
86+ lbs. - 20-25 Drops
---
People Also Bought