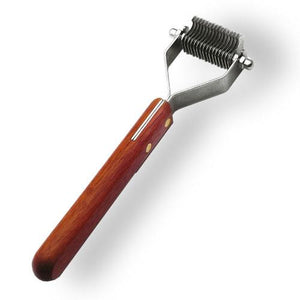 Artero
Artero Undercoat Rake
Regular price
$29.49
$0.00
Description
The Artero Rake is ideal for removing a dense undercoat.  This brush smooths out the coats overall appearance by removing unnecessary excessive undercoats, while still protecting the top coat. 
The 8 blade is recommended for heavily furnished breeds such as Golden Retrievers, Siberian Huskies, Cockers, Shepherds and other similar coats. 
The 16 blade is recommended for Cavalier King Charles, Westies, Schnauzers and other similar coats. 
The 20 blade is recommended for short coats such as Labrador Retrievers, Staffordshires and other similar coats. 
---
People Also Bought