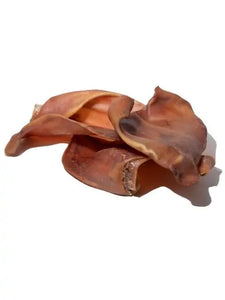 Mika & Sammy's
Freeze Dried Pig Ears
Regular price
$3.00
$0.00
Description
Dogs love chewing on Mika & Sammy's Pig Ear Dog Chews. With no grains, sugar or artificial preservatives, colors or flavors, these chews are highly digestible and can be enjoyed by pups with sensitive tummies. As your dog gnaws on this tasty chew, it helps remove plaque from the teeth. Pig Ears are rich and satisfying, which makes them the perfect anytime rewards, and they're great for keeping your pup busy and entertained, too.
Key Benefits
Truly rewarding with delicious, all-natural flavor that every dog is sure to love.
Tasty chew that's great for teeth and gum health, helping to remove plaque as your dog gnaws away—all while satisfying his chewing instinct.
Pig ears are a canine favorite, and they can help to keep your dog occupied and entertained.
Single-ingredient chew without sugar, binding agents or artificial preservatives, colors or flavors.
Grain-free with just one highly digestible, protein-rich ingredient, so you can even give them to pups with sensitive stomachs.
Precautions: Please provide plenty of fresh water when giving any chew or treat. Because this is a natural treat, its sizing, color and appearance may vary—this is normal. You may also notice a natural scent and oil while your pal chews; this natural oil may stain your furniture, carpeting or other surfaces. To prevent injury and choking hazard, please watch your pet while they enjoy this treat and be sure to choose the appropriate size chew. If this product splinters or develops sharp edges, throw it away immediately for your pet's safety.
---
People Also Bought